Haut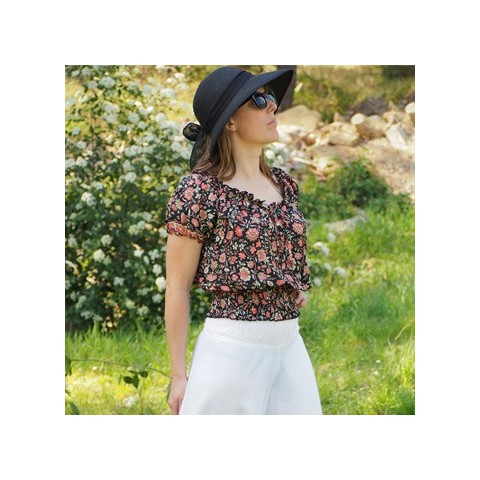 DESIGNER OF ECO-RESPONSIBLE ETHNIC AND BOHEMIAN WOMEN CLOTHES
PACAP WOMEN COLLECTION: WRAP TOPS, BOLEROS
Une haute qualité, chic et sophistiquée, dans n'importe quelle forme et dans n'importe quel style, peut développer une tenue féminine facilement pour chaque occasion comme le travail, les événements spéciaux et la base quotidienne. Dans notre collection unique de femmes, en tant que boutique en ligne éco-responsable, nous vous offrons la meilleure sélection de têtes colorées, chic et élégantes, telles que des sommes-pelleteuses pour vous apporter la meilleure version de vous-même avec votre tenue.
Nos inspirations de mode et catalogue de vêtements:
Nos inspirations viennent des tenues colorées et chic des années 60 et 70, des vêtements vintage et des estampes ethniques élégantes en tant que marque éco-responsable boho-chic en français tout en apportant une touche moderne pour le haut de notre collection de femmes. Notre marque de mode conçoit et produit une large gamme de sommets colorés, tels que des sommets enroués, des sommets bustier, des hauts et des bouleros qui peuvent être facilement adaptés à n'importe quel style et à toute occasion pour notre collection.
Nos caractéristiques en tant que marque de mode et notre public:
Tous nos têtes d'emballage et nos boléros dans notre catalogue sont des pièces originales conçues et produites par nous-mêmes dans des éditions limitées pour toutes les femmes aventureuses, tendances, chic, chic et élégantes qui se sentent inspirées par les styles bohème, vintage et rétro et qui recherchent le confort dans le style tout le temps à chaque fois qu'elles sont au travail, les fêtes, les événements, les fêtes et aussi tous les jours pendant le magasinage.
Notre taille et les différents types de matrices que nous utilisons:
Le dimensionnement de tous nos sommets et de nos sommets sans dos varie de taille petite à extra-large, alors que tous nos bustier et boléros sont d'une taille qui convient aux femmes de toutes les hauteurs et formes du corps de 34 à 46. De plus, nous offrons une large gamme de produits pour femmes dans notre collection dans différents types de tissus de qualité tels que le coton, le lycra, le voile de coton, le chiffon, la georgette, la dentelle, la viscose, la rayonne et la soie synthétique pour vous donner non seulement un vêtement, mais aussi une expérience merveilleuse avec tous nos vêtements pendant que vous les portez.
Notre sélection d'impressions pour tous les types de styles:
Tous nos boleros sont conçus dans différents types d'imprimés tels que vintage, rétro, psychédélique, Hawaii, magnum, gypsy, floral, cire, africain, original, boho, chic, chic, classy, les années 50, 60, 70 et Charleston pour tous les sens et les regards de la mode.
Notre sélection de couleurs palette pour embrasser votre style:
Toutes nos têtes de boléros et d'écharpe dans notre collection féminine sont disponibles dans une variété de couleurs telles que noir, gris, blanc et beige pour toutes les femmes sophistiquées et classiques qui recherchent un look monochromatique ; rouge, rose, orange, bleu, vert et multicolore pour toutes les femmes audacieuses et élégantes qui recherchent un look boho-chic, vintage.
Our selection of patterns for all kind of women clothing:
Toutes nos têtes de collection de femmes sont disponibles avec des motifs tels que des flores chic et colorées et des motifs géométriques sophistiqués pour élaborer votre look et votre style.