3 + 1 OFF FREE code : CADEAU      -      All orders placed before 12 noon are dispatched the same day!
.
Discover our collection of round rings with resin patterns, adjustable size. An Indian handcrafted design guaranteed. All our rings are adjustable size. You just have to choose the pattern of your ring.
Patterned Rings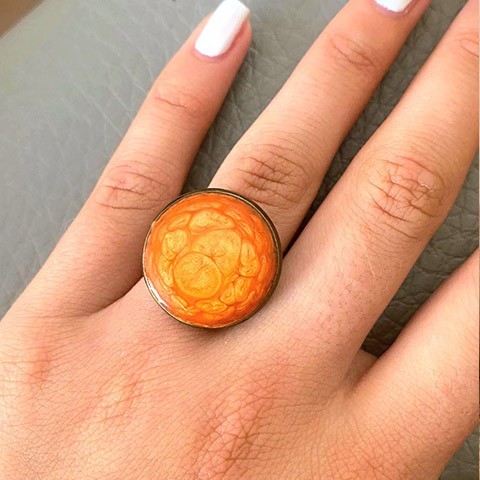 PATTERNED RINGS
The Indian rings are the flagship jewelry and must-have of our store.
Whether they are our silver rings, our brass rings or our fancy rings, our ethnic rings do not cease to seduce you and the proposed choice is very vast.

Gold ethnic rings

At Pacap, the Indian jewelry we propose are golden and silver Indian rings, especially the resin rings with patterns. You can find a big resin ring with an original print, as well as a smaller one. Our rings for women come in all shapes and sizes, mostly ethnic style, but also more classical.

But also we offer a large choice of ethnic rings "golden metal", rings, thin or wide, in smooth or well worked silver.
Each model of ring is selected with care, and a particular attention.
All our round rings come from India, we import them directly and renew our collections twice a year. Our ethnic rings are made by craftsmen with a renowned and ancestral knowledge.Our Indian silver rings have an ethnic style, bohemian chic, they are original and have a soul.

The ethnic brass rings, to change the gold plated

Brass rings also have their place in our collections, and these golden jewels are becoming more and more appreciated with time. Brass is a metal without nickel and which does not move.
The craftsmen who work the rings with patterns also know how to work the same way the brass jewels.PACAP offers original and colorful gold ethnic rings, different from the classical and traditional ones.
Our Indian brass rings can be thin or wide, in smooth or well worked brass, with or without stones.

The price of a brass jewel remains very affordable, you will be able to change it often.
Ethnic fancy rings, for small prices
Indian fancy rings are also jewels easily worn if your style is bohemian or hippie chic. Why not a big ring in resin or wood? Here again the choice of styles and materials is very wide.

The trend is towards ethnic style and fancy rings are perfect for that. The big Tibetan rings in metal and resin are always very successful in our store.
The material of our fancy ethnic rings is mostly silver plated metal or silver plated. Our jewels are nickel free.
The fancy rings remain jewels with small prices, you will be able to please you, even if your budget is restricted!

Your finger size to choose your ring

To choose the ring that suits you, we offer rings with adjustable sizes.

On which finger should I wear my ring?

You can wear your ring on the finger that suits you, there is no precise rule. In general, rings are most often worn on the ring finger or middle finger. But more and more thumb rings have a lot of success, as well as phalanx rings, or index rings.

The ethnic Indian rings are particular, they have nothing classic and will please people who like originality and colors. They are jewelry for women who like the bohemian or hippie chic style. It is a nice gift idea for those who like big jewelry. But you can also find fine rings for women who like more discreet rings. If the model does not fit, you have 14 days to exchange or return it.