Coton XL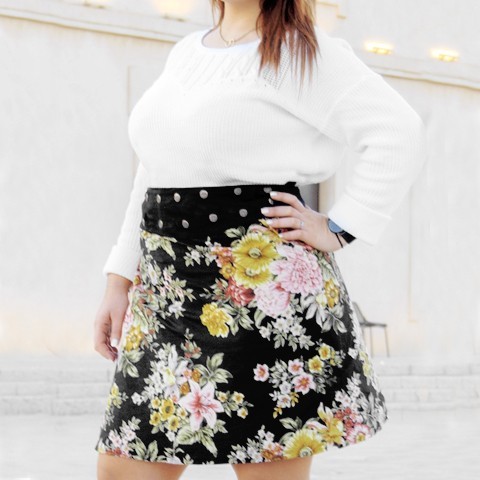 Skirt in Coton Reversible

Large Reversible Size Skirt Adjusted
There is a large, reversible female skirt for each style. Elegant, sophisticated, relaxed, playful ... You can dress or uncontract, associate it with stubs or sneakers, wear it with or without stickers-the choice belongs to you and the possibilities are endless. It is not surprising that skirt is a basic element of the wardrobe of so many women. Take a look at our large size female skirt selection, whether it's a large mini skirt or a full-size skirt, which ranges from light and fluid jup skirts to print skirt on modern poplin, and find your new favorite model today.

3 large female skirt lengths at choice
Short skirt large size, jlarge size unit or between the two with skirt midday, choose the length that corresponds to your style. Half-thigh short skirts and large mini-skirts are perfect for putting your legs in value. For an easy daily look, the skirt on the knee, skirt midday, intermediate skirt and mid-long skirt lend themselves to both formal and casual events, to spend from day to night with ease. Longer styles with long skirt, such as long skirt or long skirt at the ankle, often become the star of your outfit, taking the front of the scene for a comfortable and chic look at the same time. Whichever style you choose, enjoy your length and take it with confidence.
Fly the star with the great PACAP female skirts
The printed button skirts don't just highlight your femininity, they also add charm to your general look. There are many types of skirts to meet the unique needs of each woman and her morphology. You can choose from a range of long skirts, short skirts, skirts flared or pencil skirts large with the zipped skirts called skirts 8 looks with the small pouch and the closing light; a modulable skirt has to transform in 8 different ways.
Take a look at the incredible range of large skirts proposed by PACAP and choose according to your style and budget.

Are you going to a party? Fly the heading with a large, large skirt . Combine it with a nice cold shoulder top or a top crop, with beautiful earrings and charcoal eyes. Everyone will ask for your look!

Go to work? Breathe the elegance while remaining elegant, with a long, straight skirt. You can choose either a single United color jup or a large printed skirt . Combine it with a back-to-back evening shirt, haired hair back and a bright red lipstick, and you are ready to make a sensation! Buy this large skirt and other women's long skirts on PACAP now!
Adopt a casual look with a magnificent bohemian skirt . Combine it with a white top with long sleeves or a top without shoulder pads, with bare lips. Get ready to catch the eye!

Talk to you with a long, ethnically large skirt. Combine it with a clear color spaghetti crop, long earrings, bright makeup and a matching bracelet. For a more formal look, wear a watch or avoid it if you want a more casual look.
Buy a beautiful large size skirt online on PACAP for walks in absolutely unique models!

    Add a little glamour to a planned road trip with buddies with a nice original large skirt. A large buttoned belt, the comfort level of this large skirt is almost equal to that of a shorts. Combine it with a nice shirt and hair back.
The Large Skirt model is ideal for all occasions!