Wholesaler Detail Skirt greedy size. MIDI skirt woman round MAXI SKIRT One size and adjustable from 44 to 56 (XL to 3XL) Many patterns
Cotton skirt XXXL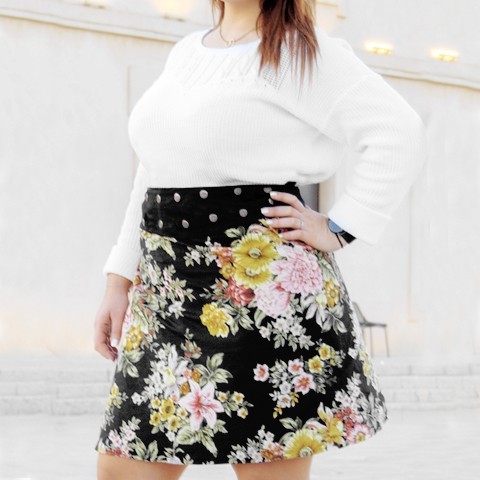 The Reversible Cotton Skirt

The fitted reversible plus size skirt
There is a reversible skirt for every style. Elegant, sophisticated, casual, playful... You can dress it up or down, pair it with heels or sneakers, wear it with or without tights - the choice is yours and the possibilities are endless. It's no wonder the skirt is a wardrobe staple for so many women. Browse our selection of women's plus size skirts, whether it's a plus size mini skirt or a plus size maxi skirt, which range from very light and flowing viscose skirts to modern poplin print skirts, and find your new favorite style today.

3 lengths of women's plus size skirts to choose from
Short skirt plus size,long skirt plus size or in between with the midi skirt, choose the length that suits your style. Short mid-thigh skirts and mini skirts large size are perfect to highlight your legs. For an easy everyday look, the knee-length skirt, midi skirt, midi skirt and midi skirt work equally well for formal and casual events, moving from day to night with ease. Longer styles with the long skirt, such as the pleated long skirt or ankle length skirt, often become the star of your outfit, taking center stage for a comfortable yet chic look. Whichever style you choose, love your length and wear it with confidence.
Steal the show with PACAP's beautiful plus size women's skirts
Printed button-down skirts not only enhance your femininity, they also add charm to your overall look. There are many types of skirts to suit every woman's unique needs and body type. You can choose from a range of long skirts, short skirts, flared skirts or full size pencil skirts with the so-called 8 look skirts with the small pouch and zipper; a modular skirt to transform in 8 different ways.
Take a look at PACAP's incredible range of plus size skirts and choose according to your style and budget.

Going to a party? Steal the show with a full plus size skirt . Pair it with a cute cold-shoulder top or crop top, gorgeous earrings and smoky eyes. Everyone will be asking for your look!

Heading to work? Breathe elegance while staying stylish, with a long straight skirt plus size. You can opt for a solid colored skirt or a large printed skirt . Pair it with a tucked-in dress shirt, slicked-back hair and bright red lipstick, and you're ready to make a statement! Shop this plus size skirt and other women's long skirts on PACAP now!

Go for a casual look with a gorgeous bohemian plus size skirt . Pair it with a plain white long sleeve top or off-the-shoulder top with nude lips. Get ready to be an eye-catcher!

Make a statement with an ethnic maxi skirt. Pair it with a light colored spaghetti crop top, long earrings, bright makeup and a matching bracelet. For a more formal look, wear a watch or skip it if you want a more casual look.
Buy a gorgeous plus size high waist skirt online at PACAP to walk in absolutely unique styles!

Add a little glamour to a planned road trip with pals with a cute, original plus size skirt. With a wide buttoned waistband, the comfort level of this plus size skirt is almost equal to that of shorts. Pair it with a nice shirt and hair pulled back.
You'll find the perfect plus size skirt for any occasion!