3 + 1 OFF FREE code : CADEAU      -      All orders placed before 12 noon are dispatched the same day!
.
What if we told you that you could transform your zippered skirt in 8 different ways? Choose from cotton, denim and velvet models...
8 Skirts in 1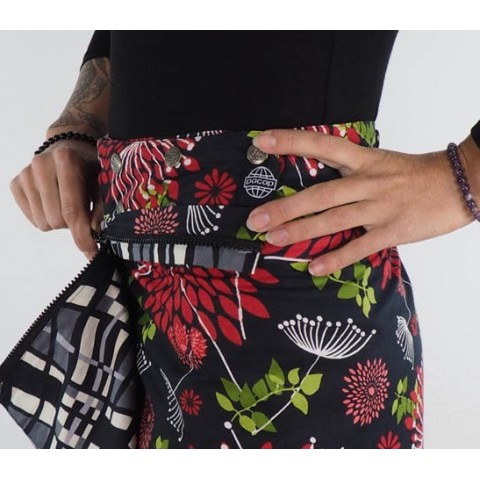 Women's Zip Skirt
The PACAP zipped skirt has the advantage of sublimating all the silhouettes. It is perfect to emphasize the size, or conversely to camouflage the curves. It exists in short, long or medium cut and is available in a multitude of materials and colors. Discover our wide selection of women's zipper skirts from the PACAP store.
With a wallet-style opening, the zipped trapeze skirt hugs the waist, gradually flares out towards the bottom and thus harmonizes the volume of the lower body. It is also called "A Zip skirt" because its shape also recalls the first letter of the alphabet. The trapeze skirt exists in many variations. At knee height, shorter or longer, it can be straight or flared, split or not. In terms of materials, everything is possible: cotton, synthetic, wool, leather, silk, denim ... The zip skirt adapts to all styles! For a sober look, opt for a velvet trapeze skirt in dark tones such as gray, navy blue, beige or black. It will then be nicely highlighted with a contrasting top. For going out, walking in the city or for a date, the zipped trapeze skirt in plain or patterned denim will give you style. While the long or mid-length zip skirt is best worn with heels, the short zipper skirt can also be paired with a nice pair of sneakers or flat booties for a casual and elegant style. The zip skirt enhances all women, long silhouettes gain volume. And if you want to refine your hips, the wrap skirt will also be your best ally thanks to its flattering shape. On Place des Tendances, you are spoilt for choice to find THE zipped wrap skirt that suits you. Very feminine, the zipped skirt can be worn on any occasion and in any season. You can combine it with everything: a blouse, a turtleneck sweater, a camisole, a V-neck t-shirt... For an office look, choose it mid-length and pair it with a flowing top, a blazer jacket and a pair of pumps. For an elegant and comfortable city outfit, the trapeze skirt can also be worn with boots and a denim jacket for example.
Discover all our collections: Asymmetrical zip skirt, Cotton zipped skirt, Short zip skirt, Short unzipped leather skirt, Pencil zipped skirt, Pencil leather skirt, Zipped evening skirt, Lace skirt, Straight zipped skirt, Suede zipped skirt, Denim zipped skirt, Woolen skirt, Flared zip skirt, Fluid skirt, Sheath skirt, Winter zipped skirt, Linen skirt, Long Zip Skirt, Long Cotton Skirt, Long Lace Skirt, Long Wool Skirt, Long Silk Skirt, Mid-Length Skirt, Midi Skirt, Skater Skirt, Leather Skater Skirt, Satin Skirt, Silk Skirt, Velvet Zip Skirt, Mini Zip Skirt, Mini Leather Skirt, Flower Skirt, Checked Skirt, Striped Skirt, Polka Dot Skirt, Minimalist Pattern Skirt
Women's Transformable Skirt