Collection Skirt buttoned Child: Skirt little girl in cotton, velvet and denim full of colors and patterns playful.s Size Adjustable from 4 to 14 years...
Reversible Girl Skirt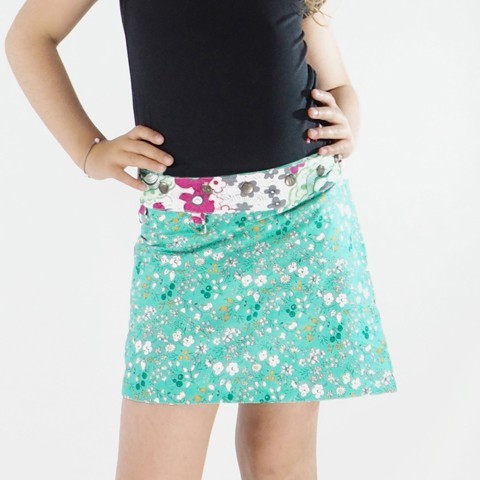 Girl Skirt 2 in 1, REVERSIBLE, CHILD'S Wear AND ADJUSTABLE SIZE
Reversible Girl Skirt

A model that adapts and adjusts easily to all sizes, because our skirts for girls go from 4 to 14 years, thanks to its snaps on the belt.
The pleasure of offering a child skirt without getting the wrong size!

It's well known that little girls love to play princess and therefore wear girls' skirts.
At PACAP, we offer little girls skirts in several materials (jeans, velvet, cotton, rayon), and there is something for every girl's taste!




Little girls skirts for all little girls!


Girls tulle petticoat, little girl culotte skirt, ruffled skirt, embroidered skirt, short skirt for girls, long skirt for girls in denim, cotton, velvet, viscose, lace, girls skirts with pockets and pouch, printed skirt for girls with flowers, animals, butterflies, pleated skirt, plaid skirt for girls, tutu skirts, skirt, children's skirts, princess skirts, dresses / skirts for girls, children's skirt that turns...

Skirts for little girls of 2 years, skirts for girls of 4 years, skirts for girls of 6 years, skirts for girls of 8 years, skirts for girls of 10 years, skirts for girls
of 12 years, skirts for girls of 14 years...

With or without integrated belt, our little girls skirts are suitable for everyday activities.
Our children's skirts are reversible girls skirts and wallet girls skirts that your little girl can keep for years.

Our little girls skirts can be plain girls skirts, geometric girls skirts, flower girls skirts... and any color, if your little girl has her favorites!
And for the colors and patterns, make your choice according to your daughter's tastes and desires! Some little girls like powder pink, fuschia pink, fluorescent pink, all shades of pink... and others not at all.

In general, pastel colors such as sky blue or water green always make girls happy. Floral and printed patterns are also very popular on little girls' skirts.




Which girl's skirt for which season?


For the summer, opt for light materials, which will not keep your child hot. A cotton skirt for girls is always ideal, this natural material is the most suitable for hot seasons.
You can, for example, complete the outfit of your daughter dressed in her child skirt with pretty ballerinas or sandals, and a small hat. A look that will surely please your daughter!

In winter, choose denim or velvet skirts for your child. Your little girl will be able to wear her girl's skirt with a pair of tights and furry boots,
without fear of being cold.


PACAP's girls skirts

At Pacap, we know that children grow up fast. So we have imagined little girl dresses that can be adapted to a girl's skirt or a teenager's skirt once your little girl has grown up!


Our range of modestly priced girls skirts will satisfy the most demanding teens, but also their moms who pay special attention to quality.
By choosing the best price girls skirt among our selection, you will always benefit from excellent value for money!

So, what are you waiting for to put some fun in their look thanks to our collection of girls skirts and explore our girls dresses PACAP?