3 + 1 OFF FREE code : CADEAU      -      All orders placed before 12 noon are dispatched the same day!
.
Wholesaler and manufacturer for stores, fairs and markets of 500 blue or black denim skirts and printed cotton Numerous ethnic and tribal vintage patterns
Blue or black jeans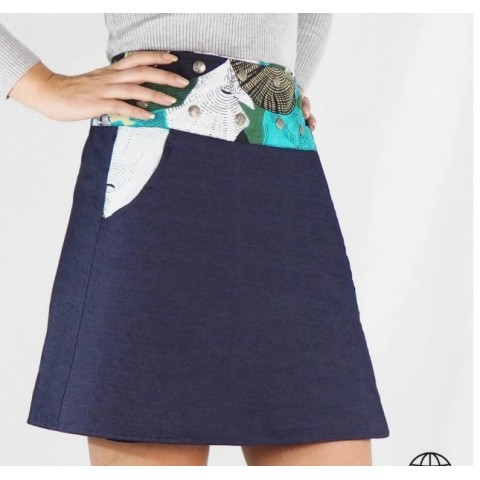 Women's DenimSkirt

A timeless and timeless garment that endures through the years and can be worn with everything, the reversible denim skirt is a must-have item to have in your wardrobe. Whether you're dressing for spring and summer or just dressing for the colder seasons, Pacap's denim wrap skirts are the perfect addition to any glamorous woman's wardrobe, and for all body types.


Black and blue denim skirt, cotton print


Young girls are very fashionable in these skirts. However, women can also look glamorous if they wear them at the right time. Due to their growing popularity, denim skirts online are easily available in different styles and patterns.
At Pacap, we consider the women's denim skirt with pockets in any cut(straight cut denim skirt, flared denim skirt, asymmetrical denim skirt, denim pencil skirt, fitted denim skirt) or length(long denim skirt, denim midi skirt, denim mini skirt) as one of the ultimate chic and feminine pieces.
The Pacap denim skirt is available in two colors: blue denim, black denim. All you have to do is select the reversible jean with the print of your choice: floral jean skirt, jean skirt with ethnic print, fancy, sophisticated... There is bound to be a stylish button down denim skirt to match your look perfectly!

Denim skirt with pocket and secret pocket

The highlight of the denim skirt is the built-in pocket on each side of the skirt (one pocket on the denim side, and one pocket on the print side). It brings a practical side to the reversible denim wrap skirt and allows to vary the looks in the same day.
Denim skirts with pockets are available online in different styles and cuts: maxi, pencil, straight flared, asymmetrical, slit, mini, midi and many more. These skirts are versatile and can bring out the fashion diva in you, if worn the right way.

SINGLE PIECE Jeans

The special thing about the women's denim collection at Pacap is that you can find blue or black denim skirts as one-off pieces.
"There will never be two trapeze denim skirts like yours! "

Denim skirts summer, fall or spring... They go with all seasons and allow you to bring out your femininity!

Reversible denim skirts for the summer allows to reveal your gams, models of reversible skirts split and long, easily matched with a white blouse, boots, or sneakers, a tee shirt or a top cross. Our short and sexy skirts or wise in their declinations as the midi skirt(mid-length skirt), we are sure that one of them will make you crack.
The more you browse through our offerings, the closer you'll get to the perfect denim skirt for you, so let your inspiration and desires flow in our women's denim skirt category.

So don't forget! Even if you can buy denim skirts in malls and stores, you can try to buy them on our online sites, no need for fitting rooms with the one-size-fits-all denim skirts that we offer:
- Women, adjustable from 34 to 46.
Buying denim skirts online is really fruitful because you will get a wide variety that is not possible in local stores. And of course, you also get them at a lower price on our last minute sales.

Here, you will simply be spoiled for choice as there are so many options. Now, don't hunt for denim skirts anymore, you will find them all here.

How to wear the denim skirt woman?

Our women's reversible and wrap jeans are high waisted and adjustable at the waist. In addition, all our denim skirts are, without exception, one size fits all. Our denim skirts are suitable for small and large sizes (from 34 to 46). They are adjustable thanks to the snap belt.
You can wear the high-waisted skirts(flared skirt) or low-waistedskirts (straight skirt) for any occasion, whether it's a romantic evening with heels or a walk with friends to reveal the print of your PACAP skirt for a casual style.


What to wear with a denim skirt?

If you are wondering what to wear with the denim skirt for women and girls this fall or winter, you can very well embellish your outfit with pretty tights, a top with embroidery, a pastel top or mix the color of your jacket with that of a small black denim skirt, or navy blue for a totally matching and effective style when you do not really have time. We are already ready and well dressed!
No doubt that you will be the most beautiful whatever your choice of denim skirt for winter and fall.


For a day or a casual outfit in the middle of summer or spring, a simple tee-shirt, tank top or plaid shirt are perfect. You can pair them with sandals, flats or even sneakers. This of course gives an urban style. For a date or an outing with friends, you can wear a white shirt with a pair of pumps or stilettos. This will give you an absolutely ravishing look. Summer denim skirts buttoned in the front are also very popular for parties and evening events. Pair it with a dressy top or crop top or just put your leather jacket over it to turn all the heads towards you.