3 + 1 OFF FREE code : CADEAU      -      All orders placed before 12 noon are dispatched the same day!
.
The PACAP reversible wrap skirt 2 in 1 snap SINGLE SIZE ADJUSTABLE of 500 printed ethnic patterns, polka dots, floral skirt trend
The Timeless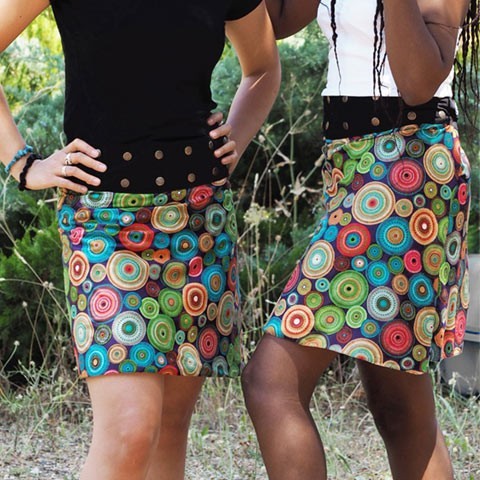 WOMEN'S WRAPSKIRT

Fitted reversible skirts

there's a reversible summer skirt for every style. elegant, sophisticated, casual, playful... You can dress it up or down, pair it with heels or sneakers, wear it with or without tights - the choice is yours and the possibilities are endless. It's no wonder the summer skirt is a wardrobe staple for so many women. Take a tour of our summer skirt selection, which ranges from super light and flowy viscose skirts to modern poplin print skirts, and find your new favorite style today.

3 Cotton Flared Skirt lengths to choose from

Short summer skirt,long summer skirt or in between with the midi summer skirt, choose the length that suits your style. Short mid-thigh skirts and mini skirts (about 37 cm) are perfect for showing off your legs. For an easy everyday look, the knee-length skirt, midi skirt, midi skirt and midi skirt (approx. 46 cm) work equally well for formal and casual events, moving from day to night with ease. Longer styles with the long skirt (about 56 cm), such as the long pleated skirt or the ankle length skirt, often become the star of your outfit, taking center stage for a comfortable yet chic look. Whichever style you choose, love your length and wear it with confidence.
Printed Skirts

When we think of summer, we think of long skirts, right? Soft, flowing fabric, bold prints and double thigh slits - maxi skirts are all over the map this season. Perfect for early evening strolls, Sunday afternoons at the country pub and girls' nights out, this style is the ultimate fashion statement.

Women's mid-thigh trapeze mini skirt


Is the weather really hot? It's time to break out the wrap mini skirt. Revitalize your collection of women's short button down skirts with some of the newest additions to our line. You can buy short skirts to wear summer, winter, spring and even fall, creating a variety of cuts, fabrics and sizes to fit any shape. Show off your skin by showing off your legs, while remaining sophisticated.

The must-have midi skirt


Undoubtedly one of this summer's top trends, the knee-length skirt is making waves on the runways. For an Insta-ready look, wear a slogan tee, white sneakers and stacks of bangles with our printed midi skirt length. Top it off with a messy bun and a little lipstick for a summer outfit.

Your must-have Women's Multi-Size Skirt

The #1 rule of summer style for a colorful bohemian and ethnic look: it has to be light, bright and comfortable. We have gathered an incredible collection of adjustable trapeze skirts with a unique waist perfect in any season, with all shapes (straight skirt, trapeze skirt, flared skirt, tulip skirt, pencil skirt, ...) and colors possible (filter your printed skirts by color yellow skirt, red skirt, white skirt, green skirt, orange skirt, black skirt, purple skirt, multicolored ...) You understood it. You want to look stylish in a PACAP wrap skirt - no problem. Your summer starts here.
Women's one-size-fits-all skirt from 34 to 46

A vacation well spent

No vacation would be complete without a reversible women's skirt or two at your disposal. Arm yourself with the latest 100 oton skirt collection, which is full of mini skirts, knee-length skirts and A-line skirts. The yin to your summer yang, a pacap skirt keeps outfits cute and light, yet can be easily dressed up or down depending on your mood.
Steal the show with the beautiful PACAP One Piece Printed Skirt

Fashion has always been a repeat of ideas, but what makes it new is how you put the look together. We all have our own style of dressing, and you have to admit that nothing can match the panache and comfort of the look you created for yourself. With most of the latest fashion trends today being nothing more than a rehash of the classics, you can easily create a look that will make a statement and wear it in style with our button down skirt.

Women's button down skirt with prints not only enhance your femininity, they also add charm to your overall look. There are many types of skirts to suit every woman's unique needs and body type. You can choose from a range of long skirts, short skirts, flared skirts or pencil skirts with the so-called 8 look sk irts with the small pouch and zipper; a convertible or modular skirt to wear in 8 different ways.
Take a look at the incredible range of ethnic skirts offered by PACAP and choose according to your style and budget.

Going to a party? Steal the show with a long flared skirt. Pair it with a cute cold-shoulder top or crop top, gorgeous earrings and smoky eyes. Everyone will be asking for your look!

Heading to work? Breathe elegance while staying stylish, with a cute pencil skirt. You can choose a solid color skirt, striped skirt, checkered skirt, liberty skirt, minimalist skirt, geometric print skirt or a polka dot print skirt. Pair it with a tucked-in dress shirt, slicked-back hair and bright red lipstick, and you're ready to rock! Shop this skirt and other women's long skirts on PACAP now!
Go for a casual look with a beautiful floral skirt, African skirt, wax skirt, aboriginal skirt, tribal skirt, Indian skirt, Hawaiian skirt, Australian skirt, Japanese skirt, Pair it with a plain white long sleeve top or off-shoulder top, nude lips. Get ready to catch the eye!

Make a statement with a PACAP ethnic skirt. Pair it with a light colored spaghetti crop top, long earrings, bright makeup and a matching bracelet. For a more formal skirt outfit, wear a watch or skip it if you want a more casual look. Shop this gorgeous high-low skirt online only at PACAP!

Add a little glam to a planned road trip with pals with a cute, original skirt with an assumed bohemian style. With a flat, wide buttoned waistband, the comfort level of this skort is almost equal to that of shorts. Pair it with a nice shirt and hair pulled back.

PACAP is a patterned skirt lover's paradise.
If you're one of them, don't wait any longer.
Log on to PACAP and enjoy your love for skirts at a low price by making satisfying purchases.
Don't hesitate to check the flash sales every week of new discount and promotion will be proposed to you without need of promo code nor to wait for the sales to buy the cheapest women skirts, at the lowest prices.