3 + 1 OFF FREE code : CADEAU      -      All orders placed before 12 noon are dispatched the same day!
.
The gipsy skirt in red, orange, caramel, chocolate or purple is a revival of the classic bohemian style with a modern touch! Adjustable waist
The Latino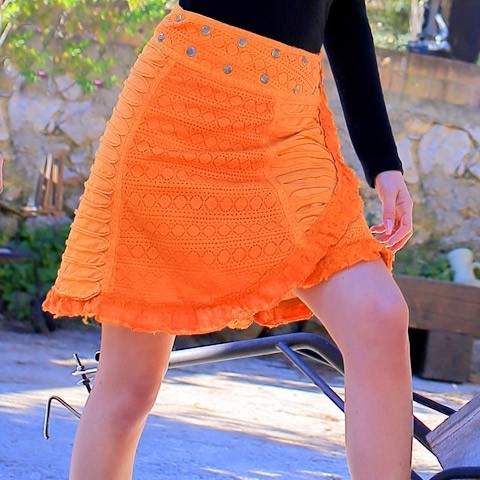 Gipsy skirt a skirt that mixes cotton and lace with finishes worked and original the gipsy skirt reminds bohemian ethnic style. A marvel it is differentiated under 3 lengths which are short, medium and long. Different colors to match your trendy and classy tops it exists in Red, Purple, Chocolate, Caramel, Orange and Black. Its different shades all bring a look of their own whether it is crazy, sober, colorful, they mix very well with simple, colorful or patterned tops! The lace is on the finishes and highlight the skirt in front of your held to put your forms forward no matter the morphology because it is adjustable in its size between the 34, 35, 36, 37, 38, 39, 40, 41, 42, 43, 44 it has therefore a unique and adjustable size that will seduce you and bring out your side sexy and chic / distinguished. Exclusive offers, incredible promotions ranging from -10%, -20%, -30%, -40%, -50%, -60% to -70%. PACAP offers its original gipsy skirt that breaks the codes of the simple skirt bringing relief in a work of precision or skirts blends with or without tights with boots or sandals with a dark top or with a sweater or not. This skirt blends into your wardrobe to bring a new edge in a retro 90's vintage style while remaining modern. - Lace skirt - Cotton skirt - Silk skirt - Short medium or long skirt - Skirt with worked finishes - French ethical and sustainable brand that produces clothing for women, men and children in retro vintage styles but also modern psychedelic abstract floral or plain in simplicity. A skirt for all women, whether you are round, thin, tall, small, pregnant or on a diet, it will fit you like a glove - Be elegant, classy and sexy with skirts made for you that fit your style and bring out your personality by brightening your complexion - Discover the world and cultures with our fashionable women's clothing - An explosion of colors and incredible moments of life our small family brand pacap wants to keep this spirit of friendship and love through our clothes mixing traditional, current, joy, passion and sharing.
See also our different categories of women's clothing:T-shirt, Tank top - Shirt and blouse - Cardigan - Crossed heart - Knitted vests - Kimono - Lace top - Nightdress - Short sleeve blazer - V-neck sweaters - Evening dresses - Long dress - Dress with print - Low waist dress - Elastic waist dress - Pants - Portfolio pants - Pants Pants - Wrap Pants - Women's Bolero - Halter - Earrings - Skirt to wear with Boots and Booties - Skirt with Ballerinas - Skirt with Fashion Sneakers - Kimono Skirt - Printed Skirt - Tulle Skirt - One size fits all Skirt - Women's Top - Women's Pants - Women's Jacket - Fluid Pants - Multisize Skirt - Women's Dress - High Waist Skirt - Flowered Blouse - Pleated Skirt - Pencil Skirt - Beach Tunic - Pregnancy Bags - Pregnancy Dresses - Pregnancy Pants - Large Jeans Skirts - Large Lingerie - Pacap Wholesale - Women's Clothing Sale - Pacap Promo Code - Flash Sale 2021.Find also on our online store clothes and fashion accessories for men, girls, boys and babies at low prices ! Pacap offers advice and help to extend the life of your favorite clothes. Openwork skirt