T-Shirt, Top and Top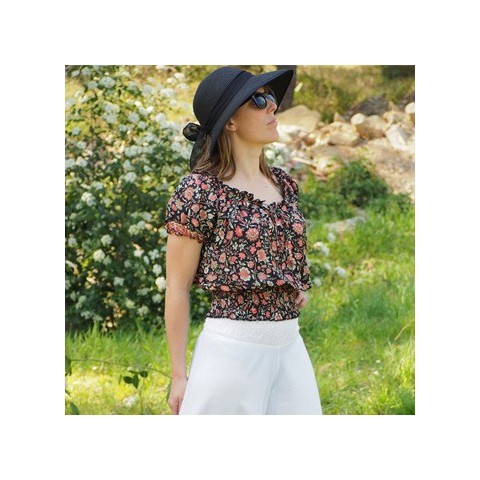 DESIGNER OF ECO-RESPONSIBLE ETHNIC AND BOHEMIAN WOMEN CLOTHES
WOMEN COLLECTION PACAP: WRAP TOPS, BOLEROS
A high quality, chic and sophisticated, in any form and in any style, can develop a feminine dress easily for every occasion such as work, special events and daily basis. In our unique collection of women, as an eco-responsible online shop, we offer you the best selection of colorful, chic and elegant heads, such as wandering boxes to bring you the best version of yourself with your outfit.
Our fashion and clothing catalog inspirations:
Our inspirations come from the colorful and chic outfits of the 60s and 70s, vintage clothes and elegant ethnic prints as a boho-chic eco-responsible brand in French while bringing a modern touch to the top of our women's collection. Our fashion brand designs and produces a wide range of colorful summits, such as rolled vertices, bustier tops, highs and bouleros that can be easily adapted to any style and occasion for our collection.
Our characteristics as a fashion brand and our audience:
All our packaging heads and boleros in our catalog are original pieces designed and produced by ourselves in limited editions for all adventurous women, trendy, chic, chic and elegant who feel inspired by bohemian, vintage and retro styles and who look for comfort in style all the time every time they are at work, parties, events, parties and also every day during shopping.
Our size and the different types of fabrics we use:
The dimensioning of all our vertices and our vertices without backs varies from small to extra-large, while all our busts and boleros are of a size suitable for women of all heights and forms of the body from 34 to 46. In addition, we offer a wide range of products for women in our collection in different types of quality fabrics such as cotton, lycra, cotton veil, rag, georgette, lace, viscose, rayon and synthetic silk to give you not only a garment, but also a wonderful experience with all our clothes while you are wearing them.
Our selection of prints for all styles types:
All our boleros are designed in different types of printed matter such as vintage, retro, psychedelic, Hawaii, magnum, gypsy, floral, wax, African, original, boho, chic, chic, classy, years 50, 60, 70 and Charleston for all senses and looks of fashion.
Our selection of palette colors to kiss your style:
All our heads of boleros and scarves in our feminine collection are available in a variety of colors such as black, gray, white and beige for all the sophisticated and classic women looking for a monochromatic look; red, pink, orange, blue, green and multicolor for all the bold and elegant women looking for a boho-chic look, vintage.
Our selection of patterns for all kind of women clothing:
All our women's collection heads are available with patterns such as chic and colorful floras and sophisticated geometric patterns to develop your look and style.