Woman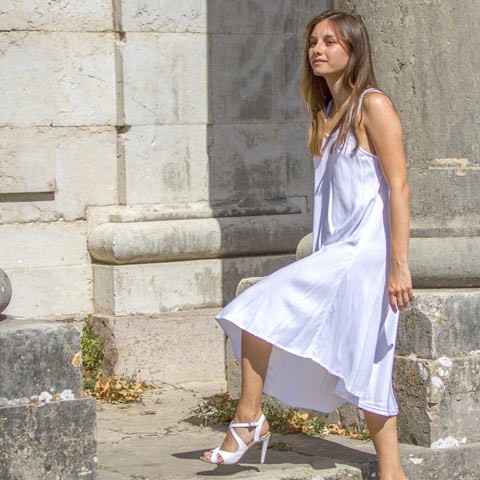 WOMEN'S CLOTHING
Small-Price Mode- Skirt, Robes, Pants, Top

Women's cheap clothes are multiplying to allow all women to stay in fashion regardless of their budget. Ethnic mode has no secrets for us, which is why we offer you all year of women's clothing adapted to the needs and silhouette of each. From Wallet skirt to split pants to large clothes or casual. Find on our site all the fashionable clothes for an original look, season after season.

Whether you are rather casual or with an elegant style, for an evening between copines or for work, Pacap dresses you with color in all circumstances! All the women find themselves in the Pacap rays: to play to offer you a dress that really looks like you, in just a few clicks. Thanks to our unique size clothing for women, please treat yourself at low prices 24 hours a day by choosing your next outfits on our website. Stay tuned for reductions to do the right business and breathe new life into your dressing room without ruining yourself. And, to be beautiful and trendy from head to toe, do not miss our collections of jewelry for women with our golden or silver earrings and earrings and accessories of hand made decorations (jewelry box, storage box) that will personalize your interior in wonder.

Pacap and the woman mode is pure low price throughout the year...

Not to be missed!

Online skater skirt, wallet pants, Women's fashion dresses and accessories.
Stay feminine at low prices!

Our women's department offers many fashion and inexpensive garments. Discover our new collection of t-shirts, longshoremen of various shapes and cuts (t-shirt printed, t-shirt long sleeves, jersey longshoreman, top collar in V or amount, naked back, to be formed). The store pacap-detail.fr also offers women's shirts and blouses for women, ranging from the shirt-shirt to the gown in viscose with satin effect, to the tunique bustier.
PACAP is printed from all styles : Vintage, Ethnic, Unicolore, Geometric, Retro, Psychedelic, Hawaii, Magnum, Gypsy, Fleurs, Wax, African, Original, Bohemia, Chic and Class, Year 50'S 60'S 70'S, Charleston, Gitane ...

Our reversible dresses and skirts are also available for all occasions (evening dress, casual dress, ceremonial dress, long skirt, jeans skirt, skirt for work, mini-skirt for the evening, skirt flared for dance classes, ...). Pacap also offers a wide range of dresses, trousers and tops for women (right-cut trousers, casual trousers, wide trousers, split pants, adjustable pants, long dress, short dress, evening dress, single size dress). All our products will be worn with your favourite shoes (boots, boots, boots, ballerinas, fashion sneakers) as well as your favorite coats (trenchs, doudounes, raincoats and parkas, jeans jackets and leather jackets).  An offer of feminine ready-to-wear, young and trending, also available for the pregnant woman, with roundness and shapes that are assumed with the large collection with clothes size plus. The skirts and dresses for girls aged 4 to 12 years are also available on the pacap-detail site, en.

To be also seen in our different categories of women's clothing:
T-shirt, longshoreman- shirt and gown -cartoned shirt- crossover -mesh Gilets- kimono-Top lace-Nightshirt-Short sleeves-Pulls Woman neck in v-Robes latch- Long dress -Robe with paper-Robe Low-Robe-Robe elastic-pants- Portfolio pants -Bolero woman-Dos naked- Earrings Boots and Bottins-skirt Ballerina-Skirt with Baskets fashion-skirt Kimono-Skirt print-Skirt skirt- Single size skirt -Top Woman-Pantashort Woman- Female -Fluid pants- Multi-size skirt -Female- skirt high -Flowering skirt-skirt-skirt-skirt-Pencil-Beach-unique-Saria-Sacs-Pregnancy-Pants-Pregnancy- Large size jeans -Large size-Wholesaler Pacap-Women's clothing-Women's clothing - Code promo Pacap-Sales Flash 2021.

Find also on our online store of men's fashion clothing and accessories, girl, boy and baby at low prices!

Pacap offers tips and help to extend the life of your favorite clothes. We remain at your disposal if you have any questions to repair and customize your clothes.

Winter and holiday season are always the perfect time to enjoy and wear new clothes! To help you, pacap offers the timers for the summer with the collection of snap-button skirt SJE, limited series skirts (available in short skirt, skirt midday is long), spring and mid-season with our unique and adjustable skirt collector (our unique pieces) for you ladies, with a face velvet skirt for softness and our dresses and feasts to be the most beautiful of the evening. For gentlemen and young boys, the beautiful original shirts, vintages and fantasies can be accompanied by an evening dress for an even more elegant and cracked look. The little girls and babies can count on the adjustable waist skirt from 4 to 14 years to stay warm, on our dresses and skirts with patterns to be chic ...  You will find a wide range of skirts, blouses and other accessories that will surely make you spend a good time.