3 + 1 OFF FREE code : CADEAU      -      All orders placed before 12 noon are dispatched the same day!
.
ETHNIC WOMEN'S CLOTHING Reversible Wallet Skirt, SINGLE PIECES, One Size Adjustable Top Dress, Bolero, Crossed Heart, Kimono Jacket Suit-Sarouel
Woman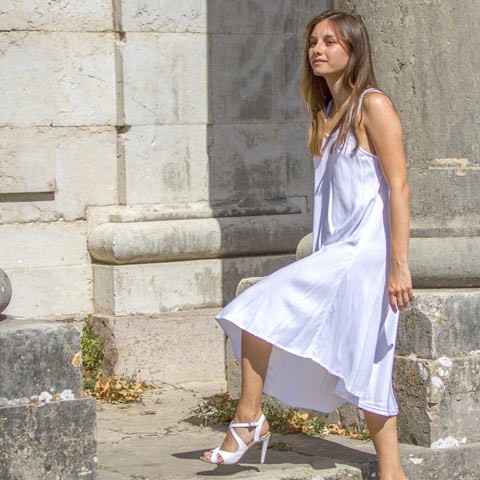 CHEAP WOMEN'S CLOTHING
Fashion at low prices - Skirts, dresses, pants, tops

Cheap women's clothes are multiplying to allow all women to stay in fashion whatever their budget. Ethnic fashion has no secret for us, that's why we offer all year long women's clothing adapted to the needs and the silhouette of each one. From the wrap skirt to the slit pants, through the large size or casual clothes. Find on our website all the trendy clothes for an original look, season after season.

Whether you are rather casual or with an elegant style, for an evening with friends or for work, Pacap dresses you with color in all circumstances! All women can find themselves in Pacap's departments: it's up to you to offer yourself an outfit that really suits you, in a few clicks. Thanks to our one-size-fits-all women's clothing , you can enjoy a low price 24 hours a day by choosing your next outfit on our website. Stay tuned for discounts to get great deals and give your wardrobe a new lease on life without breaking the bank. And, to be beautiful and trendy from head to toe, don't miss our women's jewelry collections with our patterned rings and gold or silver earrings and handmade decorative accessories(jewelry box, storage box) that will personalize your home perfectly.

Pacap and women's fashion, it's pure pleasure at low prices all yearlong...

Don't miss it!

Online sale of skater skirts, wrap pants, dresses and fashion accessories for women.
Stay feminine at low prices!

Our women's department offers many trendy and cheap clothes. Discover our new collection of t-shirts, tank tops of various shapes and cuts(printed t-shirt, long sleeve t-shirt, jersey tank top, V-neck or high neck top, halter top, tie top). The pacap-detail.fr store also offers fashion blouses and shirts for women, from the checkered shirt to the viscose blouse with satin effect, through the strapless tunic.
PACAP, it's prints of all styles: Vintage, Ethnic, Unicolor, Geometric, Retro, Psychedelic, Hawaiian, Magnum, Gypsie, Floral, Wax, African, Original, Bohemian, Chic and Classy, Year 50'S 60'S 70'S, Charleston, Gypsy...

Our reversible dresses and skirts are also available for all occasions (evening dress, casual dress, formal dress, long skirt, denim skirt, skirt for work, mini skirt for evening, flared skirt for dance classes,...). Pacap also offers a wide range of dresses, pants and tops for women (straight pants, casual pants, loose pants, slit pants, adjustable pants, long dress, short dress, evening dress, one size dress). All our products can be worn with your favorite shoes (boots, pumps, boots, ballerinas, fashion sneakers) as well as your favorite coats (trench coats, down jackets, raincoats and parkas, denim jackets and leather jackets). A young and trendy range of women's ready-to-wear clothing, also available for pregnant women, with curves and shapes that are assumed with the plus size collection. Skirts and dresses for little girls from 4 to 12 years old are also available on pacap-detail.fr.

Also to be seen in our different categories of women's clothing:
T-shirt, tank top - Shirt and blouse - cardigan - Crossed heart - Knitted vests - kimono - Lace top - Nightdress - Short sleeve blazer - V-neck sweaters - Evening dresses - Long dress - Dress with print - Low waist dress - Elastic waist dress - Pants - Pants for sale Pants - Wrap Pants - Women's Bolero - Halter - Earrings - Skirt to wear with Boots and Booties - Skirt with Ballerinas - Skirt with Fashion Sneakers - Kimono Skirt - Printed Skirt - Tulle Skirt - One size fits all Skirt - Women's Top - Women's Pants - Women's Jacket - Fluid Pants - Multisize Skirt - Women's Dress - High Waist Skirt - Flowered Blouse - Pleated Skirt - Pencil Skirt - Beach Tunic - Pregnancy Bags - Pregnancy Dresses - Pregnancy Pants - Large Jeans Skirts - Large Lingerie - Pacap Wholesale - Women's Clothing Sale - Pacap Promo Code - Flash Sale 2021.

Find also on our online store clothes and fashion accessories for men, girls, boys and babies at low prices!

Pacap offers advice and help to extend the life of your favorite clothes. We remain at your disposal if you have any questions about repairing and customizing your clothes.

Winter and the holiday season are always the perfect time to treat yourself and wear new clothes! To help you, pacap offers you the timeless for the summer with the SJE snap skirt collection, limited edition wrap skirts (available in short skirt, midi skirt and long skirt), spring and mid-season with our one size fits all and adjustable collector skirt (our unique pieces) for you ladies, with a velvet skirt face for more softness as well as our dresses and party outfits in order to be the prettiest one at the party. For gentlemen and young boys, the beautiful original, vintage and fancy shirts can be accompanied by an evening wear for an even more elegant and charming look. Little girls and babies can count on the adjustable skirt from 4 to 14 years to keep warm, on our dresses and skirts with patterns to be chic... You'll find a wide range of skirts, blouses and other accessories that are sure to make you have a great time.