3 + 1 OFF FREE code : CADEAU      -      All orders placed before 12 noon are dispatched the same day!
.
Discover our collection of accessories. Earrings woman with ethnic patterns. Silver and gold earrings, the ideal jewelry for your evenings. Hundreds of earrings for less than 10 euros !
Earrings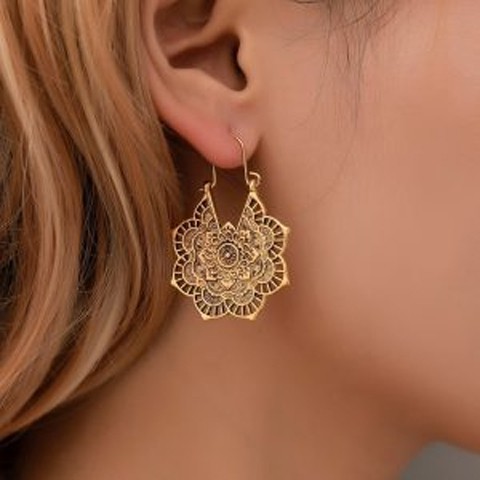 ACCESSORY COLLECTION : CHEAP INDIAN GOLD BRASS EARRINGS
Here is our collection of gold brass earrings, simple or chiseled, with or without natural stones.
Our gold earrings come in all shapes and sizes.
A change from gold plating for our brass earrings
Indian craftsmen are starting to work with metal, brass as well as silver.
The craftsmen jewelers seize it to make original and affordable jewelry to all.
These earrings are very appreciated by women who like golden jewelry but also ethnic.
Brass is a material that does not move and is maintained like silver. It does not contain nickel so you can wear your earrings without worries.
Brass is a material that has been used for centuries in different sectors.
The result is very pretty, with simple golden earrings or decorated with their natural stones.
Natural precious and semi-precious stones are also a good value and an investment.
Bohemian-chic style, brass earrings
Women with a bohemian, hippie chic or ethnic style particularly like these earrings.
The golden earrings that come from India compete with originality.
The earring is often hand chiseled with its own soul. Each piece of jewelry is handcrafted. These golden earrings are often copies of traditional ancient jewelry of the Maharajas.
The bohemian and hippie chic style also likes symbolic jewelry.
Find in our collections of earrings the Tree of Life, the AUM or the Flower of Life.
Brass creole styles, revisited and stylized for a more original style
Every woman has in her treasure box the gold and brass creole earring.
Our creoles are stylized earrings, often reworked and chiseled, for an ethnic, hippie chic and bohemian style.
You will certainly find the ones that suit you: small thin hoop to the big ethnic hoop!
Brass earrings and their natural stones
Some Indian brass or brass earrings are mounted with natural and semi-precious stones: moonstone, malachite, labradorite, turquoise, rose quartz...,
The stones have therapeutic virtues, worn in earrings, they can benefit from its benefits.
How to maintain its Indian golden brass earrings ?
Brass, like silver, is a material that does not alter.
To give them back their shine, soak them in white vinegar for a few minutes, then rinse and dry with a cloth. We also advise you to clean them with toothpaste.
Your jewelry will look like new again!
To prevent your earrings from darkening if you don't wear them, we recommend storing them in a box or pouch away from sunlight.
The brass earrings, jewelry at low prices
The Indian brass earrings remain cheap women's jewelry to be offered all year long:
Valentine's Day gift, mother's day and grandmother's day, birthday, cheap gift
You will be able to change them often which allows you to please yourself regularly
So choose the pair of golden earrings you like!