Veste, Kimono, Cardigan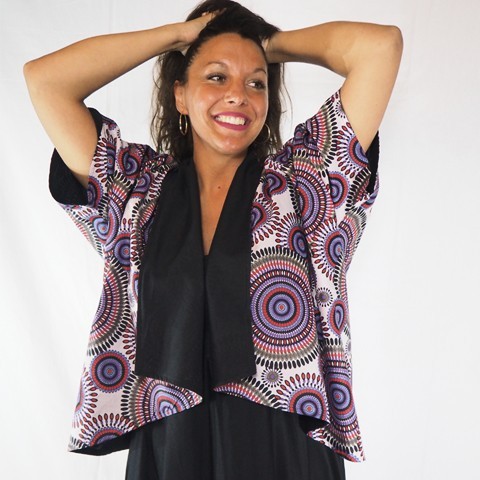 Kimono


Women's kimono is an essential garment to be held in its dressing room. Similar to a cardigan or a waistcoat, the kimono is light, refined and class, we enqueue it and here we are already well dressed,
without effort!
Whether you like it for its elegance, or because they remind us of Japan, the kimono is a lighthouse jacket for many years



A kimono jacket with complex or artistic details or a long dramatic dress, can be worn or add elegance to a simple plain-coloured ant or a combination in a woman.
Just make sure that the light kimono jacket occupies the front of the scene with your outfit. You should not mix too many drawing or pattern elements so as not to confuse the eye, unless they are really in the same color family and print size. The addition of a necklace or earrings should be enough to complement your summer recess.

Above a bathing suit at the beach, a dress in the evening, a top in the day or under a coat when the temperature drop is felt, we all need a kimono. Long up to the feet, short, united or with printed matter, this new trend vest can be infinite.
With its three-quarter sleeves and its cup voluntarily longer in the back than on the front it accords with almost everything.

"Beach look" enthusiasts will have their choice on light, satin or transparent models that will allow them to see their tan skin.
Ideal for copine vials, an aztec cotton kimono will bring a touch of peps to a classic dress composed by slim jeans and ballerinas.
Finally, all those who feel in the geysha mood will be able to drape in a piece long on the pivoting patterns with a belt that will mark the waist.

There are United kimonos, flower kimonos, weight kimonos, Aztec kimonos or African-based kimonos at Pacap.
What to delight in the followers of prints and bright colors!

Let's try one of our short kimonos, or our long kimonos, it can be close to size to give a blazer appearance, or leave wide for a more relaxed look, you will always be in fashion



Our reversible kimonos will allow you to switch and vary the looks according to your desires. So it's 2 kimonos for the price of one!

Our kimonos are 100 % cotton for maximum comfort.