The PACAP skirt, reversible or wrap-around, fits all body types and sizes from 34 to 46. 3 lengths Reversible skirt 2 or 8 moods
Reversible skirt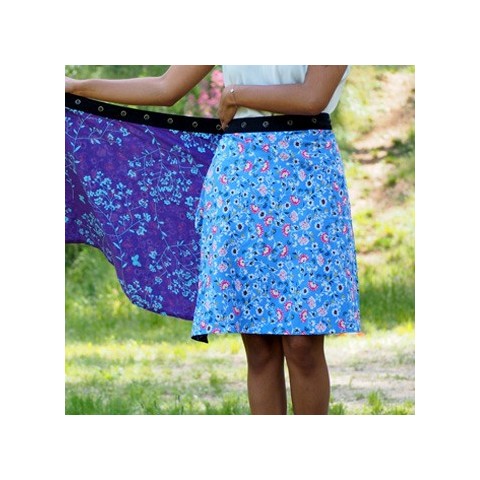 REVERSIBLE WRAPSKIRT

Reversible Ethnic Skirt for Women
The woman skirt in the air of time, for a feminine fashion, fair, not expensive, of quality, with very coloured artistic creations.
The originality of the PACAP wrap skirt (Wholesale ethnic clothing for women) is marked by an identity imprint of each Asian country.
The 2in1 ethnic skirt is a way to get closer to the intercultural history of Nepal, Thailand or India or even Africa. When you wear a Pacap reversible skirt, you are also wearing "A World of Colors".

The must-Have ethnic clothing for women at PACAP
On our Pacap store you will find original clothes at the best price ! with a large choice of ethnic clothes for a bohemian, chic and hippie style with the wrap dress, the ethnic saroual, the one-size-fits-all tops, wide or slit pants, and the famous snap button skirts.
Fair prices at mini prices, on many women's clothing adjustable size from 34 to 46.

Buy ethnic skirt at the best price.

You want to buy a reversible buttoned skirt online? You are at the right place.
With the reversible ethnic skirt PACAP, in the colors of Asia, you have the choice between more than 500 patterns / prints of all possible styles (flower, geometric, ethnic, checks, graphic, bohemian, psychedelic, polka dots, stripes, unicolor, Japanese, wax, African, aboriginal, tribal, ...), to ensure you all the wardrobe you dreamed on pacap-detail.fr .
Our reversible collection declines the woman's skirt by playing the game of quality materials: leather skirt, corduroy skirts, wool skirt, raw denim skirt, knitted skirt, viscose skirt, cotton skirt, poplin skirt, silk skirt... for easy, dressy or more casual chic looks. This season's favorite? The summer skater skirt with floral print. We also like the straight milleraies skirt with adjustable waist, perfect for a modern and elegant work outfit, or the trapeze skirt in soft leather, for a rock chic look. Playing with classic or daring colors, the skirt will find a place in all fashion wardrobes to bring extra femininity in all seasons.

80 e unique pieces to seize.

The reversible skirt with snaps is mainlya unique piece. Each reversible skirt is an assembly of combinations, handcrafted and dyed with natural dyes.

Discover the Printed Skirts and Reversible Summer Skirt Multi-size.

Presented as an asymmetrical skirt with one part of the skirt that closes on the other part (on the front or on the side of the skirt) like a shirt, the vintage wrap skirt is reinvented, very easy to wear and easy to maintain. You can surprise your friends with the one size fits all skirt.
A skirt that can be transformed according to your desires from a red floral skirt or a tribal printed skirt.

A timeless fashion, which reveals all the culture of a world of color.

We like to mix this declination of print with a white flowing blouse and a small pair of pumps to appropriate a style mixing chic and sophistication. In the evening, we do not hesitate to adopt a high waist model that we accessorize with a pacap top. As for shoes, we put on a pair of metallic or glittery pumps. The lovers of the bohemian tendency prefer it, them, short to associate it without taking head with studded leather clogs and a cape.

You like the skater skirt, asymmetrical skirt, pleated skirt, trapeze skirt, straight ethnic skirt or the printed cigarette skirt, flounced skirt, split skirt, pencil skirt... on our site, you can choose your ethnic skirt of your choice.
3 lengths of skirt to choose


There are different lengths of reversible wrap skirts, short skirts called mini skirts or overskirts, midi skirts called knee-length skirts, medium skirts and mid-length skirts and long skirts called maxi skirts. You can wear all these lengths in high or low waist to vary the cut: straight or flared.

The real must-have in the women's dressing room, it has seduced thanks to its less strict look than most existing cuts to show our legs in an elegant and original way. Very flattering, sexy but also very stylish, it will certainly enhance your look and refine your silhouette. We particularly appreciate the colorful prints to maximize its appeal.
True symbol of the easy chic New York style
"Adopt it to claim a femininity assumed.

It is difficult to ignore the glamorous potential of our reversible skirts whose separate edges let us see our legs. It brings volume at the level of the hips and thus feminizes the silhouette. We draw the same to refine our waist while hiding thighs coated.
the skirt way wallet turns out to be a real chameleon of fashion.
So we dare the reversible wrap skirt for an ultra glam look. Go for a PACAP wrap skirt and lace top and your favorite pair of sock boots.

So cool! Colors and prints - we have everything you need.
So trust us, we always have new wrap skirts to offer you every month and here we adapt to your moods, your desires and most importantly your styles!
ONE SIZE FITS ALL SKIRT AND ADJUSTABLE SKIRT
It is certainly the detail which will mark you the most on our original skirts, the adjustable size. The adjustable skirts FEMME PACAP are adjusted from 34 to 46 with the help of snaps present on the wide belt integrated into the reversible woman skirt.
The reversible multi-size wrap skirt, the garment that never really goes out of style.