Jean Blue or Black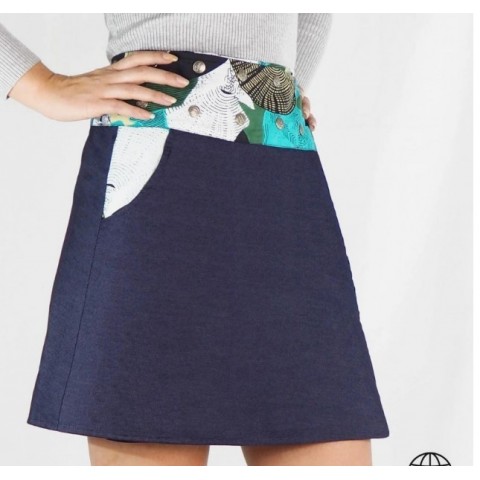 Skirt in Jean Woman

Inevitable and timeless stubbornness that crosses the years and is worn with everything, the reversible jeans skirt is an essential element to hold in its wardrobe. Whether you dress for spring and summer or just dress for cooler seasons, the jeans of the Pacap brand jeans are the perfect addition to the dressing of any glamorous woman, and for all morphologies.


Skirt black jeans and blue jeans, printed cotton


Young girls are very much in fashion in these skirts. However, women can also look glamory if they are wearing them at the right time. Due to their increasing popularity, online jean skirts are readily available in different styles and patterns.
At Pacap, we consider the Skirt Woman in Pockets, regardless of its cutting (skirt jean cut right, skirt with escaped jeans, skirt with asymmetrical jeans, skirt pencil skirt, adjusted jean skirt) or its length (skirt long en jean, jupe midi denim, mini-skirt en jean) as one of the chics and feminine pieces par excellence.
La jupe jean Pacap comes in two colors: blue jeans, black jeans. You only have to select the reversible jeans with the printed matter of your choice: skirt jeans with flowers, skirt jeans with ethnic printed matter, fantasy, sophisticated ...  There will necessarily be an elegant button skirt in buttoned jeans to fit perfectly with your look!

Skirt with pocket and secret pouch

The strong point of the jean skirt is the built-in pocket on either side of the skirt (a jeans-side pocket, and a printed side pocket). It brings a practical side to the denim wallet reversible and allows to vary the looks on the same day.
Disposable skirts with pockets are available online in different styles and cuts: maxi, pencil, right flared, asymmetrical, split, mini, midi and many more. These skirts are versatile and can bring out the diva of fashion in you, if worn in the right way.

UNIQUE EXHIBIT

The particularity of the jean collection in Pacap is that you will be able to find blue or black denim skirts in unique pieces.
" There will never be two skirt with trapeze jeans like yours! "

Juice in jeans summer, autumn or spring ... They agree with all the seasons and allow to bring out your femininity!

Reversed jeans skirts for summer unveil your gambettes, models of light and long reversible skirts, easily mariable with a white shirt, boots, or sneakers, a t-shirt or a high cross. Our short and sexy skirts or wiser skirts in their declinations like midday skirt (mid-long skirt), we are certain that one of them will cause you to crack.
The more you browse our offerings, the more you'll get closer to the jeans skirt that fits your expectations, so let's go loose and let loose-short to your inspiration and your desires in our class skirt with women's jeans.

So don't forget! Even if you can buy jeans skirts in shopping malls and shops, you can try to buy them on our online sites, need more fitting cab with the jeans skirts unique size that we propose:
-Woman, adjustable from 34 to 46.
The purchase of online jeans skirts is really good because you will get a great variety that is not possible in local stores. And of course, you also get them at a lower price on our last minute sales.

Here you will simply be spoiled by the choice, because there are so many options. Now, don't chit jeans anymore, you'll find them all here.

How do I wear the skirt with female jeans?

Our Reversed Woman jeans and wallets are tall and adjustable to size. In addition, all our jeans skirts are, without exception, unique size. Our jean skirts are suitable for both small and large sizes (from 34 to 46). They are adjustable thanks to the pressure knob belt.
You can wear high-size skirts ( Skirt flared) or low size (straight skirt) for any occasion, whether in romantic evening with heels or a stroll between friends to unveil your PACAP jup print for a casual style.


What to put with a jeans skirt?

If you wonder what to wear with the jean skirt for a woman and girl this fall or this winter, you can very well decorate your dress with beautiful sticky, a high embroidery, a top pastel, or mix the color of your jacket with that of a small skirt with black jeans, or navy blue for a fully matched and effective style when you don't really have time. We are already ready and well-dressed !
No doubt you will be the most beautiful whatever your choice of jeans skirt for the winter and fall



For a day or a casual dress in the summer or spring, a simple T-shirt, sweater or a shirt shirt are perfect. You can associate them with sandals, flat shoes or even sneakers. This of course gives an urban style. For an appointment or an exit between friends, you can wear a white shirt with a pair of needles or pants. This will give you an absolutely delightful look. The summer skirts of buttoned jeans are also very popular in parties and parties. Set it to a top or crop top or simply put your leather jacket on top to rotate all heads toward you.