Portfolio 2 in 1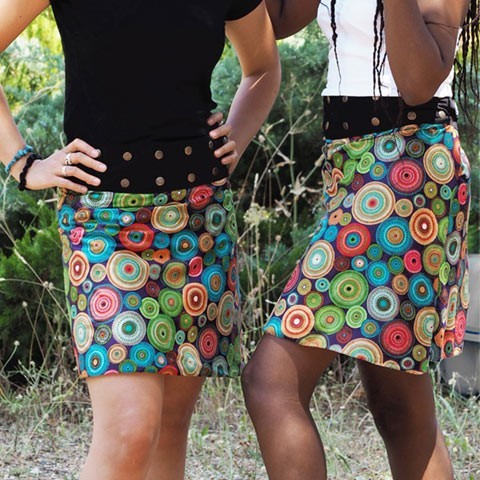 JUPE WOMEN

Adjusted reversible skate skirts

there is a reversible skirt for each style. Elegant, sophisticated, relaxed, playful ... You can dress or uncontract, associate it with stubs or sneakers, wear it with or without stickers-the choice belongs to you and the possibilities are endless. It is not surprising that summer skirt is a basic element of the wardrobe of so many women. Take a look at our selection of summer skirt, which ranges from viscose skirts very light and fluid to print skirt on modern poplin, and find your new favorite model today.

3 lengths of skirts at choice

Skirt was short, jwas long , or between the two with midday skirt, choose the length that corresponds to your style. Half-thigh short skirts and miniskirts (about 37 cm) are perfect for putting your legs in value. For an easy daily look, the skirt on the knee, skirt midday, intermediate skirt and mid-long skirt (about 46 cm) lend themselves to both formal and casual events, to spend from day to night with ease. Longer styles with the long skirt (about 56 cm), such as the long skirt or long skirt at the ankle, often become the star of your outfit, taking the front of the scene for a comfortable and chic look at the same time. Whichever style you choose, enjoy your length and take it with confidence.
Printers Long skirts

When you think of summer, you think of maxi skirts, no? Soft and fluid fabric, bold print and double slit on thigh-maxi skirts are in all trends this season. Perfect for the beginning of the evening, the Sunday afternoons at the campaign pub and the girls' outings, this style is the trendy trendy.

Jup minis for you

The weather is really hot? This is the time to exit the mini-wallet. Revitalize your selection of Female buttoned skirts with some of the new features of our range. We do the summer skirts as it should, by creating a variety of cuts, fabrics and sizes to adapt to all shapes. Highlight your skin by showing your legs, while remaining sophisticated.

The essential midday skirt

Without a doubt one of the leading trends of this summer, the midday skirt makes waves on the podiums. For a look ready for Insta, wear a slogan t-shirt, white sneakers and bracelets with our favourite printed midi skirt. Complete the whole with a disordered chignon and a little lipstick for a summer record-keeping.

Your inescapable Skirt is a unique size

Summer style rule number 1: light, light and comfortable. We gathered an incredible collection of summer skirts unique sizes perfect for the season, with all possible shapes and colors (filter your skirts printed by color yellow, red, white, green, orange, black, purple, multicolor ...). Do you like embroidered finishes? You have understood this. You want to be elegant in a mini-skirt-no problem. Your summer starts here.
Unique and adjustable sizes from 34 to 46

A well-filled holiday

No vacancy would be complete without one or two reversible summer skirts at your disposal. Enjoy the latest collection of cotton skirt, which is full of minijupes, midis and A-line skirts. The yin of your summer yang, a skirt allows you to keep mignonne and light outfits, while you can be easily dressed or not according to your mood.
Fly the spotlight with the superb PACAP jupes

Fashion has always been a repetition of ideas, but what makes it new is how you put the look together. We all have our own style of dress, and you have to admit that nothing can match the plume and the comfort of the look that you created for yourself. Since most of the latest trends in the current mode are nothing more than a repeat of the classics, you can easily create a look that will make sensation and wear it with style.

Printed skirts don't just highlight your femininity, they also add charm to your general look. There are many types of skirts to meet the unique needs of each woman and her morphology. You can choose from a range of long skirts, short skirts, skirts flared or pencil skirts with zipped skirts called skirts 8 looks with small pouch and closing light; a modulable skirt has transformed from 8 different ways.
Take a look at the incredible range of skirts proposed by PACAP and choose according to your style and budget.

Are you going to a party? Fly the heading with a max skirt flared. Combine it with a nice cold shoulder top or a top crop, with beautiful earrings and charcoal eyes. Everyone will ask for your look!

Go to work? Breathe the elegance while remaining elegant, with a nice straight skirt. You can choose a color skirt or a pea printed skirt. Combine it with a back-to-back evening shirt, haired hair back and a bright red lipstick, and you are ready to make a sensation! Buy this skirt and other women's long skirts on PACAP now!
Adopt a casual look with a beautiful flower silk skirt. Combine it with a white top with long sleeves or a top without shoulder pads, with bare lips. Get ready to catch the eye!

Talk about it with an ethnic midi skirt. Combine it with a clear color spaghetti crop, long earrings, bright makeup and a matching bracelet. For a more formal look, wear a watch or avoid it if you want a more casual look. Buy this beautiful high and low skirt online only on PACAP!

Add a little glamour to a planned road trip with buddies with a nice original skirt. A large buttoned belt, the comfort level of this skirt is almost equal to that of a shorts. Combine it with a nice shirt and hair back.

PACAP is the paradise of skirt lovers.
If you too are part of it, then don't wait any longer.
Connect to PACAP and enjoy your love for skirts by making good purchases.