3 + 1 OFF FREE code : CADEAU      -      All orders placed before 12 noon are dispatched the same day!
.
The new collection of reversible skirt of the French brand PACAP, offers this season the wrap skirt to tie around the waist. A reversible model with 2 different prints on each side, one size, pleated and flounced...
To be tied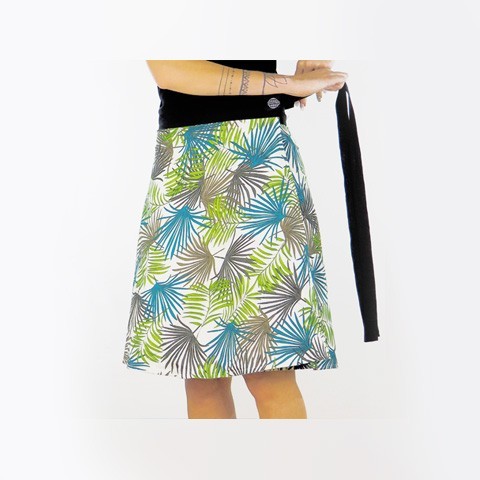 Trapezeskirt in cotton and viscose. Model high waist and low waist according to your needs with crossed front, maintained by large panels to tie on the side. Available in unique pieces or in limited edition, the skirt to tie is a classic of the PACAP brand. Unleash your creativity with this reversible skirt that adapts to all sizes and morphologies thanks to its adjustable belt to tie. Dozens of different original patterns. Whether floral patterns, polka dots, modern, retro, vintage ethnic bohemian hippie chic elegant plain dark psychedelic abstract 70s 80s 90s or 2000s models for all women according to their shapes and characters. An outfit that suits you and that blends into your dressing room or wardrobe with plain or colored tops you can stand out during all seasons whether in winter, spring, autumn or summer. in red, blue, orange, green, yellow, purple, black, white, pink and all possible variations. These tie-dye skirts are comfortable airy and flared skirts for a casual look with drawn patterns or more chic with plain or two-tone polka dot patterns. Pacap skirts are cheap ethnic style skirts with pieces that fit the personality of the customer. We want to transmit joy and happiness fashion for women clothing for each skirt and dresses children, skirts for teenagers, skirts for adults, skirts for mom, skirts for pregnant women, for grandmothers and grandmothers, skirts for strong women we have large size. Pacap wants to be an inclusive brand that accepts everyone as they are.
Tulle skirt - One size skirt - Women's top - Women's short pants - Women's jacket - Fluid pants - Multi-size skirt - Women's dress - High waist skirt - Flower blouse - Pleated skirt - Pencil skirt - Beach tunic - Pregnancy bags - Pregnancy dresses - Pregnancy pants - Large size jeans - Large size lingerie - Pacap wholesaler - Women's clothing sales - Pacap promo code -
Find also on our online store clothes and fashion accessories for men, girls, boys and babies at low prices !
Flash sale 2021.
The skirt has a knot or tie with its black belt is made of 100n cotton and brings lightness it can be worn as well in high waist as low waist, with tights or leggings for the cold seasons and very airy in summer to enjoy the sun. This wrap skirt flared in straight cut or diagonal cut for depth allows a change of style for a look always more original and which allows to revive the product. Fashion at a low price thanks to our French brand PACAP. This skirt can be matched with our unicolor or not lace or frilly tops. All on our website online store original, annual promotions with gifts and coupon codes not to mention sales with -10% -20% -30% up to -50% see -70 isavailable from size S to 3XL through the M (medium) L (Large) XL (extra large) 2XL find a new look simple and effective, classy elegant and distinguished or crazy psychedelic and unique. our fashion accessories are distinguished by their side adaptable and scalable. They are available in mini skirt (short), normal size (medium) or long above the knees. these 3 lengths allow different ways to wear the product. exclusive skirts for a personal style sexy or tailored. These skirts are worn in pencil flannel prints that are mixed thanks to the reversible skirt and its 2 sides. Straight skirt, trapeze skirt, flared skirt, tulip skirt, pencil skirt multicolor skirt ... Perfect for vacations clothes, adult fashion clothes a look that fits your shapes and your desires. glammour and love in our exclusive skirts. Liberty skirts, checkered, Hawaiian jungle, African skirt, wax skirt, Japanese skirt, tribal skirt, crazy skirt, geometric skirt. All styles are good to be put forward. we also have in our store skirts in rayon, viscose skirts, silk skirts, leather skirts, satin skirts, velvet skirts, but also pants in these materials and tops. not to mention our men's category with our printed shirts and the 500 models that are available