3 + 1 OFF FREE code : CADEAU      -      All orders placed before 12 noon are dispatched the same day!
.
Discover the brand new PACAP skirt, an ultra thin belt, a row of snaps. Reversible. One size fits all, from 34 to 46.
DRAINED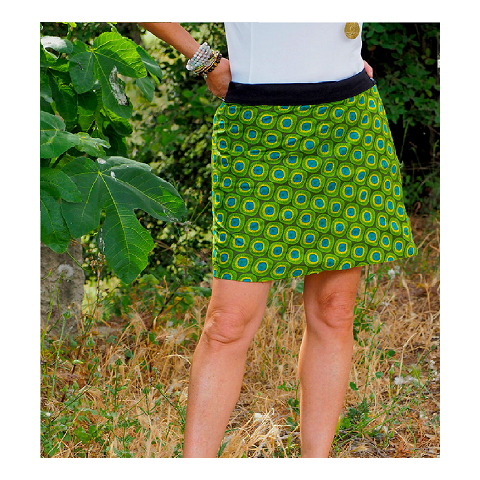 FLARED SKIRT WOMAN
The high-waisted skirt, changing and timeless at the same time
Always on the move, the new PACAP wrap skirt comes in several lengths and finds a way to surprise you.
Our flared skirts have color to spare.
Between the wrap skirt and us, we must admit that it is a story that lasts. As a child, we love it because it adapts to all activities in the playground. As a teenager and then as a woman, we keep a place of choice in our wardrobe for our daily casual chic but also for our dance parties. The passage of time seems to have no hold on it. Regularly updated, it remains one of the emblematic pieces of the female wardrobe.
The printed flared skirt is part of these skirts that suits all women, as the straight skirt. The simplicity and the cleanness of its lines highlight us whatever our morphology. Its secret boot? It marks the waist while concealing the hips. A real advantage for those who have some curves to erase! At the same time, the flared skirt also changes identity according to its length and its cut. It becomes in turn trapeze skirt, skater skirt, bell skirt or corolla skirt. Both elegant and casual, it can be up to much more formal events. Sometimes mini, sometimes midi or even maxi, the flared skirt is constantly adapting to the fashions that follow. It is well in its time and its cut a little retro does not change anything.
Thanks to its different lengths, the flared skirt has more than one turn in its bag and adapts even better to all the silhouettes. The flared miniskirt is very well suited to women who seek to lengthen their legs while discreetly hiding their hips. It is a very feminine casual outfit for everyday wear. The flared knee-length skirt is probably the one that offers the most beautiful retro look. With its 50's wrap skirt look, it is ideal on a dance floor. Ample and pleasant to wear, it twirls nicely with our movements. And it is well decided to be more trendy than ever. The long flared skirt is easy to wear. It offers a bohemian style to all those who choose it with a floral print.
Play your seductive asset in flared skirt PACAP
The flared skirt comes in all styles, from the most classic to the most unexpected. Whether you prefer it in cotton, Indian silk or printed viscose, you will have a thousand ways to wear it. With an oversized white shirt tied at the front and a pair of sneakers for a casual look or with a blouse buttoned up to the collar and leather derbies to assert your classic and wise style. Looking for a totally offbeat look? Go for a flared tulle skirt with a perfecto and biker boots. Guaranteed effect.
All this explains in large part why the reversible flared skirt is one of the must-have garments that has never stopped pleasing for decades. Always resolutely modern and feminine, it adapts to almost all circumstances. Make it an ally in your daily life. It will follow you everywhere and even accompany you to the office. Depending on your daily activities but also on the season, choose it in cotton, leather, suede or velvet. It goes very well with a shirt or a sock sweater, semi-opaque tights, flat boots or with a nice pair of thigh-high boots.
Depending on your weekend activities, opt for a buttoned skater skirt or a viscose skirt. Accompany it simply with a white t-shirt, a tank top or a sailor suit. To complete this summer ensemble, nothing better than a straw hat and a pair of mules, sneakers or espadrilles. For the evening, your flared skirt becomes glamorous if you choose it with sequins and a silk bolero. You just have to finish your outfit with a pair of patent pumps and a minaudiere slung over your shoulder.
The long flared and pleated skirt does not lack allure. It is not without reminding the 80s when she was a star. Easy to live with, it fits everywhere. At the office, you can mix it with a silk blouse tucked inside. This long flared skirt can be worn all year round. In summer, it is perfect with a crop top and a pair of mules. In muslin or cotton, it is light and airy. It is ideal for both work and leisure. In winter, prefer a model slightly above the ankle. Pair it with a sock sweater and ankle boots. If you want to give it a chic edge, opt for a long coat. If you want to keep it casual, a 3/4 jacket is ideal.
At PACAP, we offer all cuts (trapeze, asymmetrical, pleated) and all lengths of flared skirts (midi skirt, knee-length skirt and midi skirt). You can choose the one that suits you among all our models. We present you exclusive confections that our stylists have imagined to accompany you every day. Our flared skirts are machine washable and easy to care for like all our other garments. Just follow the instructions on the labels. We choose only strong and comfortable fabrics so that your clothes do not move despite repeated washings. But we always make sure to offer them to you at low prices.